Your #1 Sugar Land Irrigation Contractors


Our Sugar Land irrigation team is not your every day group of contractors. We're a one stop shop for all things landscaping. Turn your yard into a gorgeous outdoor entertaining area, an English garden or a tranquil getaway – whatever you can imagine, we can make it happen.
Maintenance
Most of our services are related to creating and maintaining irrigation systems. Of course we do pop up head repairs and find underground leaks, but that's not what we want to be doing. We want to prevent those things from happening in the first place. That's why we suggest becoming part of our bi monthly maintenance service. This service makes sure that your system stays in good shape, year in and year out. We do full winterizing service, spring resets, pop up head fixes, nozzle clear outs and more. These little tweaks we perform in just 30 minutes every other month will keep your water bill low and your yard looking stunning.
Complete Drainage Systems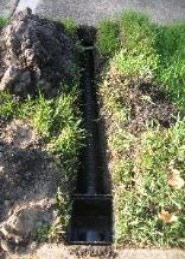 One of the things that many homeowners (and some other sprinkler guys) forget about when they are dealing with their sprinklers is drainage. If you have low areas in your lawn –especially near your home's foundation – you need a drainage solution. Our Sugar Land irrigation contractors will install French drains throughout your property to route excess rainwater and irrigation through the areas of your yard that need it the most and out to the road for disposal. Pooled water will not only kill off some types of turf grass, it will also promote weed growth and provide breeding grounds for pests like mosquitoes.
In addition to drainage systems we also do small construction projects including patios and retaining walls. We also lay brickwork and pour concrete patios. As your Sugar Land landscape pros, we can help you take your existing lawn and create outdoor living spaces.
New Sprinkler Installation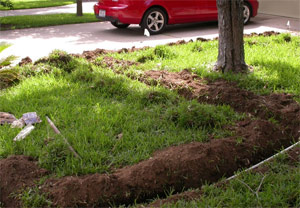 Are you from the east side of Sugar Land? Do you have one of those older homesteads without a current sprinkler system? If so, we've got you covered. Our irrigation installers use state-of-the-art CAD technology to design custom systems for your landscape. Our designs take into account the needs of every zone of your yard and we make sure to double and triple check everything before we break ground. The installation process takes about one day for every 1000 feet of underground line (the size of most residential systems in the area). Once the system is up and running, well come back in a week to check to make sure everything is running perfectly and make any necessary tweaks. Call us today and talk to an account specialist now!